This is a continuation of the Land Surveying and Land Surveyors article. Here I will be discussing about Land Surveyors, their role in society and other aspects.
Land Surveyor (Geomatic Surveyor)
Land Surveyors – Nobody knows what they do, but everyone knows when they do it.

random meme
What is a Surveyor?
At their very core Land Surveyors do measurements. To be more specific, a surveyor gathers positional data to produce accurate representation of the shape of the land and anything on it.
Whilst the term surveyor is all encompassing, there are other terms that are used to describe surveyors. The following terms are also being used:
Land Surveyor
Geomatic(s) Surveyor
Engineering Surveyor
Geodesist
Topographer
Topographical Surveyor
Cartographer
Chartered Surveyor
Licensed Surveyor
Building Surveyor
etc
Whilst these terms tend to reflect the speciality or status of the professional, they are interchangeably used to refer to surveyors.
Chartered Surveyor vs Normal Surveyor
One important aspect of the survey profession is the professional status of the individual. More often than not, there is confusion on what this means or if it is important.
Most countries will have a governing authority of the profession. This authority will have restrictions on what a surveyor can or cannot do. The surveyors that are registered with the specific authorities will be called Chartered Surveyors (similar to chartered accountants or any other profession).
A Chartered Surveyor is bound to have the highest standard of work due to strict requirements on qualifications and experience required by the governing bodies. Also, most of the time he will have to adhere to minimum CPD (Continuous Professional Development) requirements on a yearly basis.
Whilst the Chartered status isn't required for most surveys, typically is mandatory for work involving the Land Registry or Cadaster.
Other names chartered surveyors go by are: Licensed Surveyor or Registered Surveyor.
Additionally, there are other professional bodies which a surveyor might be part of, but they don't necessarily offer Chartered title or status.
Surveying Activity
Some of the day to day tasks of a Surveyor include:
collect and analyse data to map the land for civil engineering and construction projects
carry out surveys and identify potential effects of construction on the environment
use GNSS and surveying instruments
use digital images and satellite photos to create accurate maps
sort and analyse data using Geographic Information Systems (GIS)
monitor land and building movement as a result of construction and natural processes
create diagrams, drawings, charts and maps using computer aided design (CAD)
provide real world locations of building and infrastructure designs (setting out)
This isn't an exhaustive list and there are many more activities involved in the job.
How to become a Land Surveyor?
Alright, this part is for the people who want to be on the other side of the fence and get involved with the profession.
It doesn't take much to get into Land Surveying. In most countries you don't even need formal education to start working as a surveyor. You can simply start as an Assistant or Apprentice. With this being said, there are a few things you should consider as this isn't a job for everyone.
As a land surveyor, you will be responsible for carrying out the review of land using technical equipment to ensure it is suitable for a construction project to take place.
In the very beginning of the career, you should expect a lot of outdoor activity through rough terrain. Carrying heavy equipment is also common, as well as long walking distances. Keep in mind that, whilst not necessary, it does require a level of fitness to undertake a role safely and efficiently.
Required skills and knowledge
To successfully become a Land Surveyor you will need most of the following skills:
maths knowledge, more specifically geometry and trigonometry
knowledge of engineering science, technology and geography
analytical thinking skills with a thorough attention to detail
the ability to use your initiative
excellent verbal communication skills
thinking and reasoning skills
thorough understanding of computer systems and applications
good spatial awareness
Career path
Ok. So you become a Land Surveyor and in time you want to progress. You might think that this profession restricts your career path to certain roles. But that is not the case. Land Surveying offers quite a few career opportunities.
With enough experience, you could move into project management or contract management.
You can also specialise in an aspect of surveying, or work as a self-employed consultant.
A very common move might be into software or hardware development. These sectors often require seasoned Geomatics Engineers to provide technical knowledge and quality assurance for positional products.
How much does a surveyor earn?
This is an obvious and natural question to have. However, this varies significantly based on the country and sector you are in, your experience, your specialisation and professional status.
Typically land surveyors don't earn as much as other engineering roles, but they are over average. A very rough guide to Land Surveyor average salaries are (UK, Australia and USA):
Starting/Junior roles: ~£22,500, ~AU$54,000 and $58,000
Experienced roles: ~£35,000, ~AU$71,000 and $80,000
Senior roles/management: £50,000+, ~AU$100,000+ and $116,000
Figures are taken from Prospects.ac.uk, Payscale AUS and Payscale USA. Whilst I live and work in the UK, it's the only place where I can confirm average salaries. Please take all the values with a grain of salt.
Other factors that will influence the salary of a land surveyor are:
Being in a niche job or highly specialised field
Professional status (Chartered/Licensed)
Also, do not confuse the salaries of Valuation Surveyors with those of a Land Surveyor. The former tend to have much higher salaries, however it is a related but distant field of Land Surveying.
Other common questions
How to find a land surveyor near me?
You can try and find a land surveyor near you as you would try to find anything else. First of all: Google. Most surveying businesses will have a webpage or Google map location. This can help your research and you can often see reviews from other customers.
Alternatively, you can use the local surveying professional body in your area to search specialists in the field. Very often they will have a directory of individuals and companies on their websites. One such directory for finding a surveyor is RICS – Find a Surveyor page in the United Kingdom. You can sort and filter surveyors and companies based on the field they specialise in, their location or Chartered status.
What tools are used in surveying?
Being as old as it is, Land Surveying has seen it's fair share of tools and equipment. Often survey tools evolve and improve, but their basic premise stays the same: to allow surveyors to make measurements.
Very basic tools such as ropes, measuring tapes, measuring wheels and compasses are still used to this day to make basic surveys or augment more complex operations. These are tools that will be found all surveyor's arsenal.
However, modern land surveyors do make use the latest advancements in technology. And tools such as robotic total stations and theodolites are used to do precise and efficient observations.
Collected survey data is usually manipulated by survey processing software, computer aided design (CAD) or geographic information systems (GIS) software.
Surveying instruments
Common survey equipment used today include:
Measuring tapes, rulers and distomats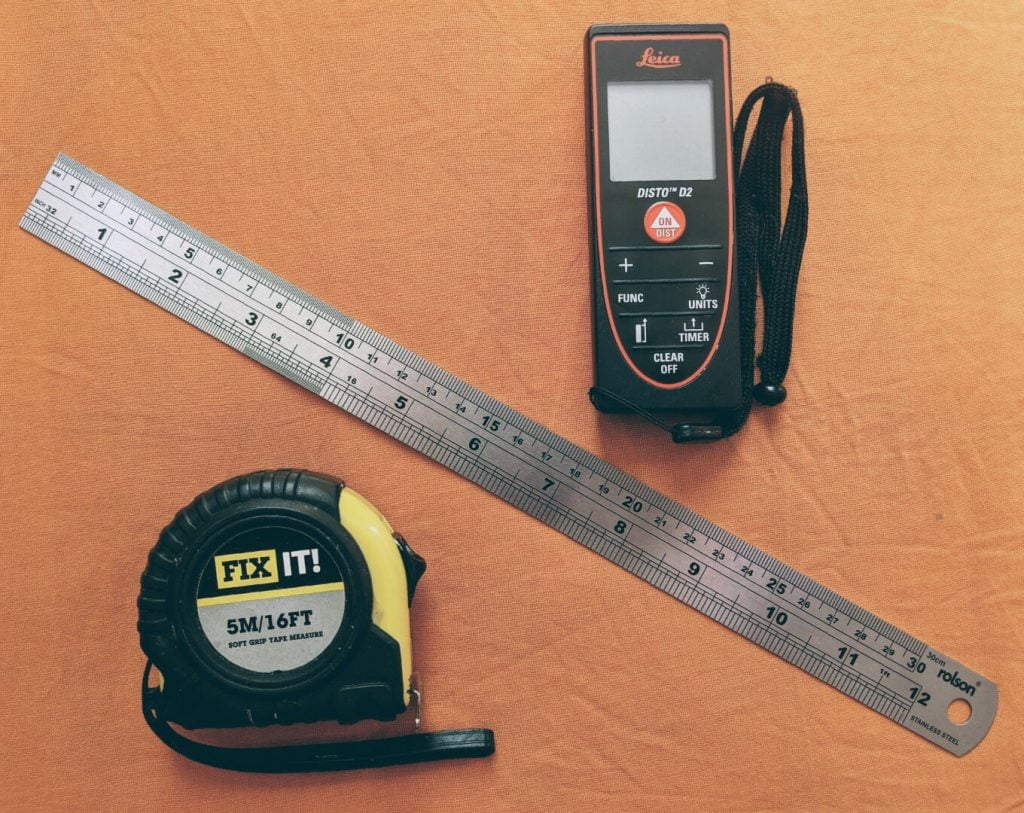 These are ideal and convenient tools for measuring short distances and doing quick reference checks. Measuring tapes and distomats offer direct distance measurement for short to medium ranges. They are indispensable when it comes to surveying.
Measuring wheel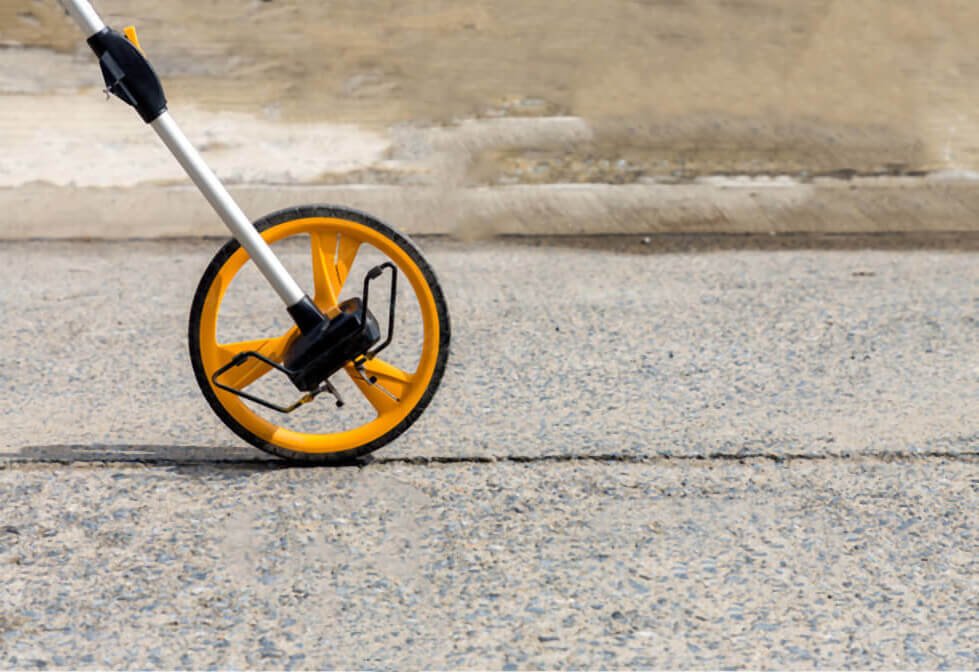 Measuring wheels are used by surveyors for quicker and lower accuracy surveys of long distances. This implies rolling them from the start to end point.
The radius of the wheel is precisely known and it is of a defined distance (usually a metre or a yard).
The number of revolutions is counted by a mechanical device attached to the instrument. The distance is the determined by multiplying the number of revolutions by the radius of the wheel. Calculations are done either mechanically or digitally.
Geometric levels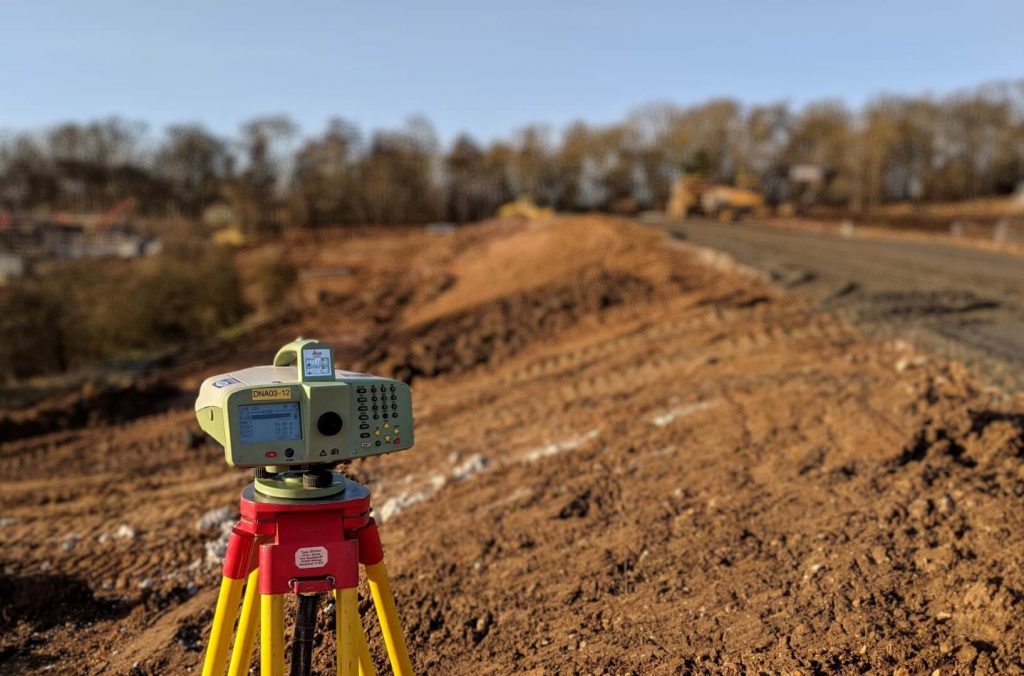 Geometric levels are very basic devices which use the properties of light and physics to determine level differences between horizontal planes. A basic geometric level consists of a telescope with specific cross-hairs and a leveling bubble. This is used in conjunction with a vertical staff to measure height differences and transfer elevations.
Geometric levels can be split in two main categories:
Optical levels – which are analog devices where users have to manually observe and record measurements
Digital levels – which use a bar code reader to read the leveling staff and measurements are automatically recorded
Theodolites and Total Stations
Theodolite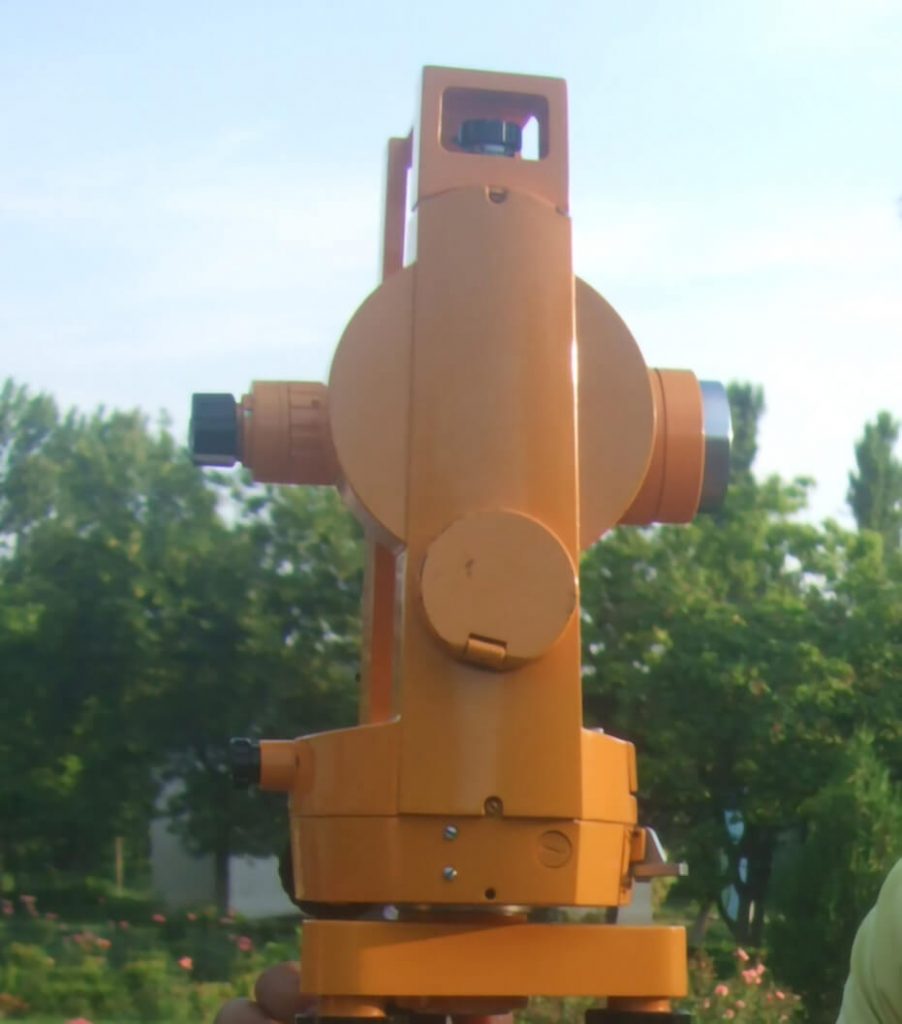 Whilst theodolites are rarely used today, they were the initial form of the well know Total Stations that we love and use. These were developed to measure precise horizontal and vertical angles for the purpose of triangulation.
A theodolite consists of a moveable telescope attached over perpendicular axis. It is mounted on a tripod head by means of a tribarch containing thumbscrews for tightening and loosening.
The theodolite should be placed vertically above the point to be measured using a plumb bob or laser plummet. Tubular spirit bubbles are used to keep the instrument level.
Total Station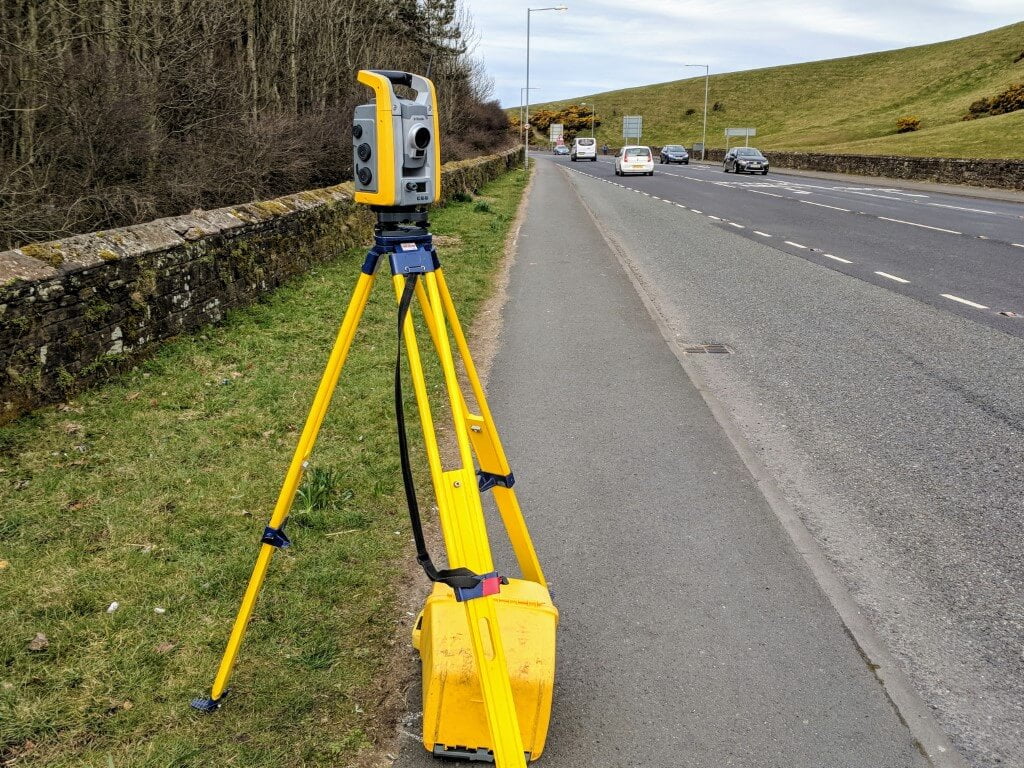 An electronic/optical instrument used in modern surveying. A total stations comprises of and electronic transit theodolite and Electronic Distance Measurement module (EDM). It is also integrated with microprocessor, electronic data collector and storage system, making it a self-contained instrument which can be used for the large majority of survey tasks out there.
Total stations enable field work to be carried out rapidly and efficiently, with quick calculations of coordinates. They have easily become the most commonly used survey instrument due to their accuracy and efficiency.
GNSS (GPS) Receivers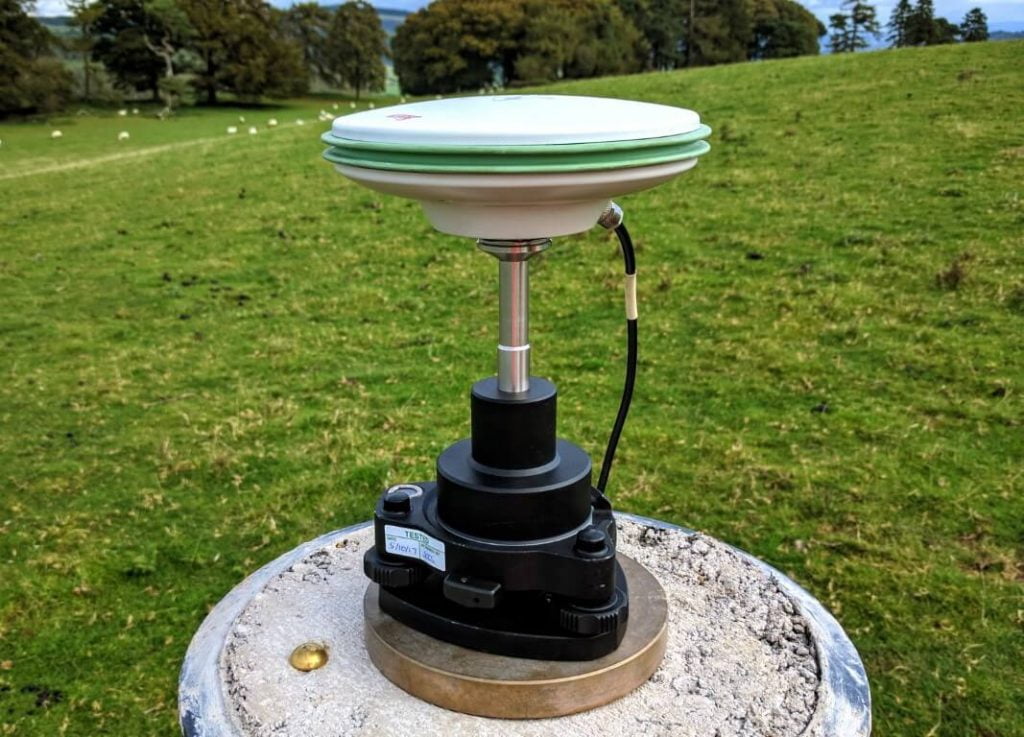 With the advent of the GPS and other GNSS networks in the last few decades, these have become a very common tool used in surveying. GNSS receivers have a flexibility advantage over Total Stations.
GNSS survey equipment makes it possible to obtain location, distance, and height measurements almost instantaneously. the only requirement is that the instrument has a clear view of the sky to receive signals from GNSS satellites.
When used properly, GNSS for land surveying offers a high level of accuracy whilst being much faster than conventional surveying techniques.
Laser Scanners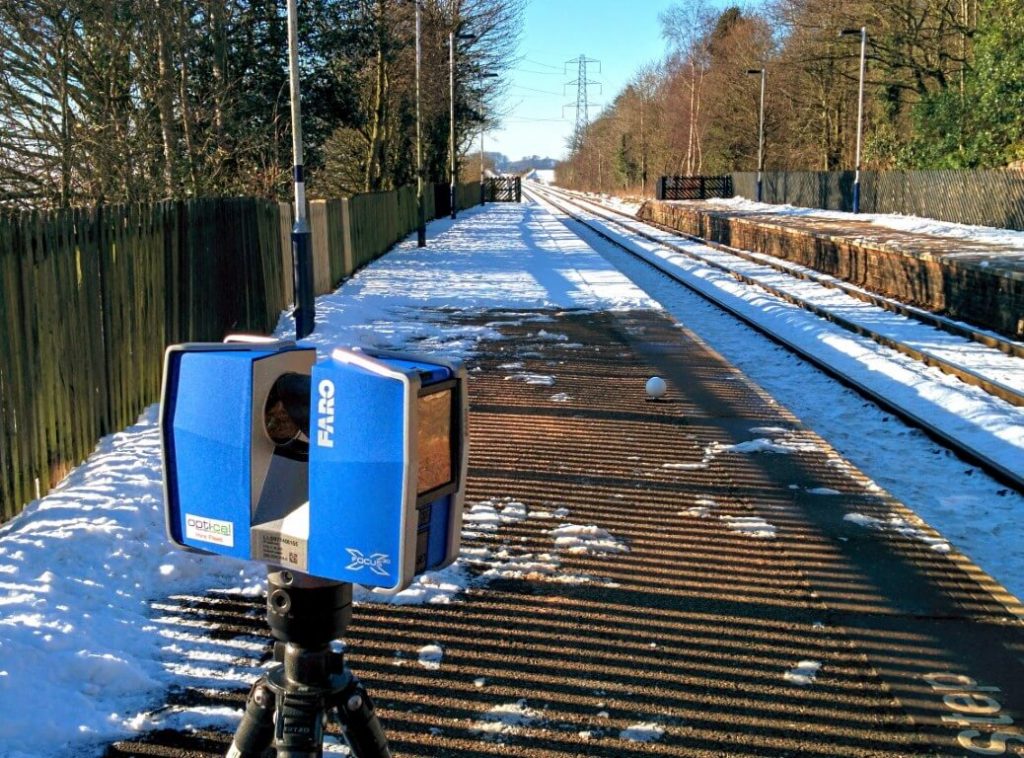 In the last few years, the laser scanner has become an increasingly popular tool used in surveying. It allows the fast collection of vast amount of data with high accuracy.
Survey grade laser scanners collect millions of individual point measurements within minutes. The measurements are then plotted within a single Cartesian (XYZ) coordinate system to form a "point cloud" of the object's external surface.
The resulting 3D data can be used for visualisation, modelling and planning in 3D. It also has practical use in BIM and heritage projects. The advantage of the point cloud data is that, once collected, it can also be used to take any number of measurements without having to physically be on site.